F-MAX, the new tractor that Ford Trucks launched at the IAA Commercial Vehicles 2018, has won the "2019 International Truck of the Year". The competition was adjudicated by a panel of independent judges, comprising leading specialised journalists from 23 European countries.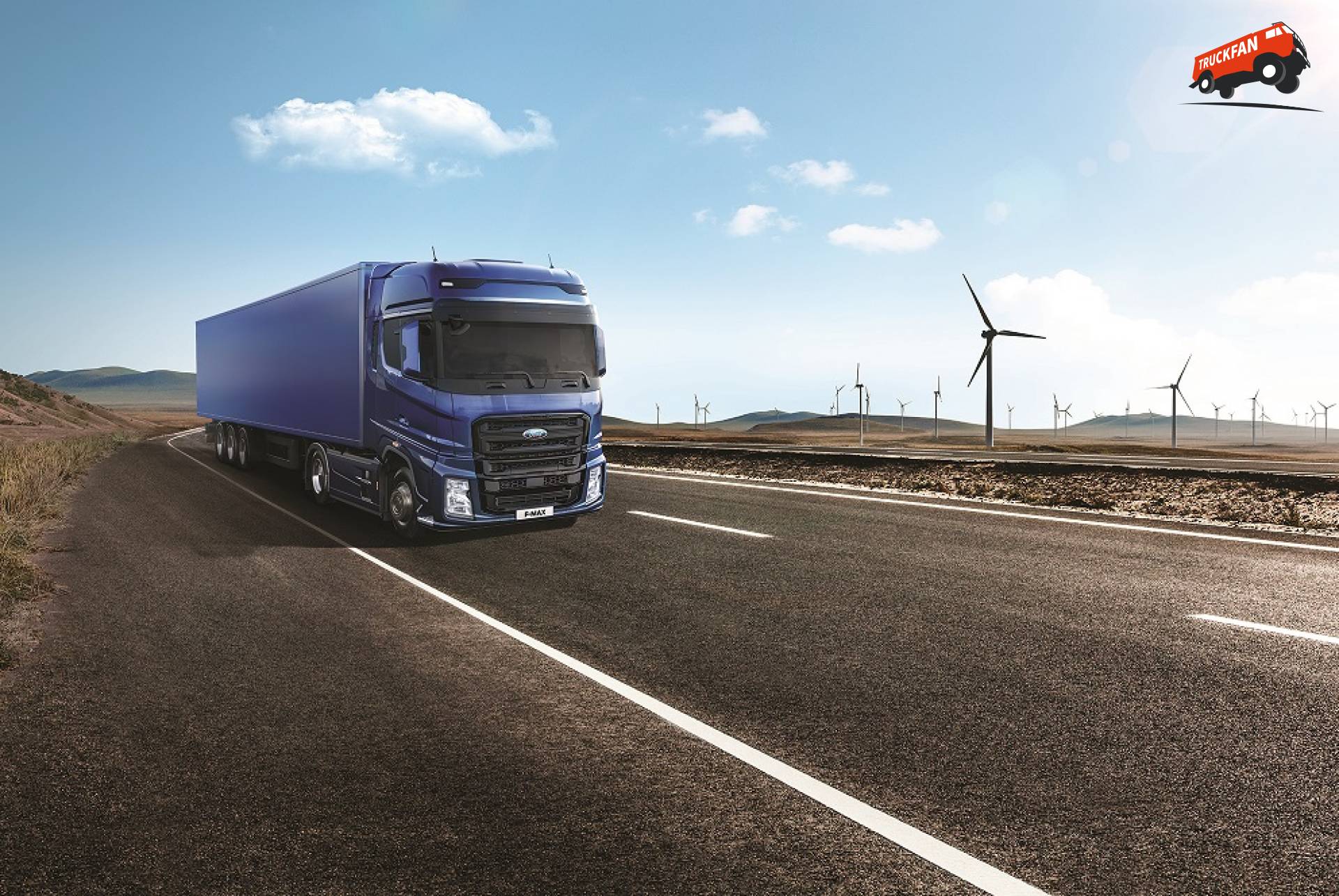 The new Ford Trucks tractor F-MAX, which was launched at IAA Commercial Vehicles 2018 in Hanover, Germany, has won the "2019 International Truck of the Year" award. The prestigious award of the heavy commercial vehicles industry was presented by Gianenrico Griffini, chairman of the International Truck of the Year (IToY) jury, to Haydar Yenigün, Ford Otosan General Manager at the Ford Trucks stand at IAA Commercial Vehicles 2018.
Members of the International Truck of the Year (IToY) jury, which consists of leading trade journalists from 23 European countries, carried out a strict evaluation process to choose the 2019 International Truck of the Year. After being put through its paces in the road tests in different categories and static assessments, the F-MAX underwent a rigorous assessment covering key criteria such as technological innovation, comfort, safety, drivability, fuel economy, environmental footprint and Total Cost of Ownership (TCO). The F-Max scored the highest number of points, finishing ahead of its competitors and winning the "2019 International Truck of the Year" award.
Haydar Yenigün: "Winning the International Truck of the Year Award is a very important step toward our future"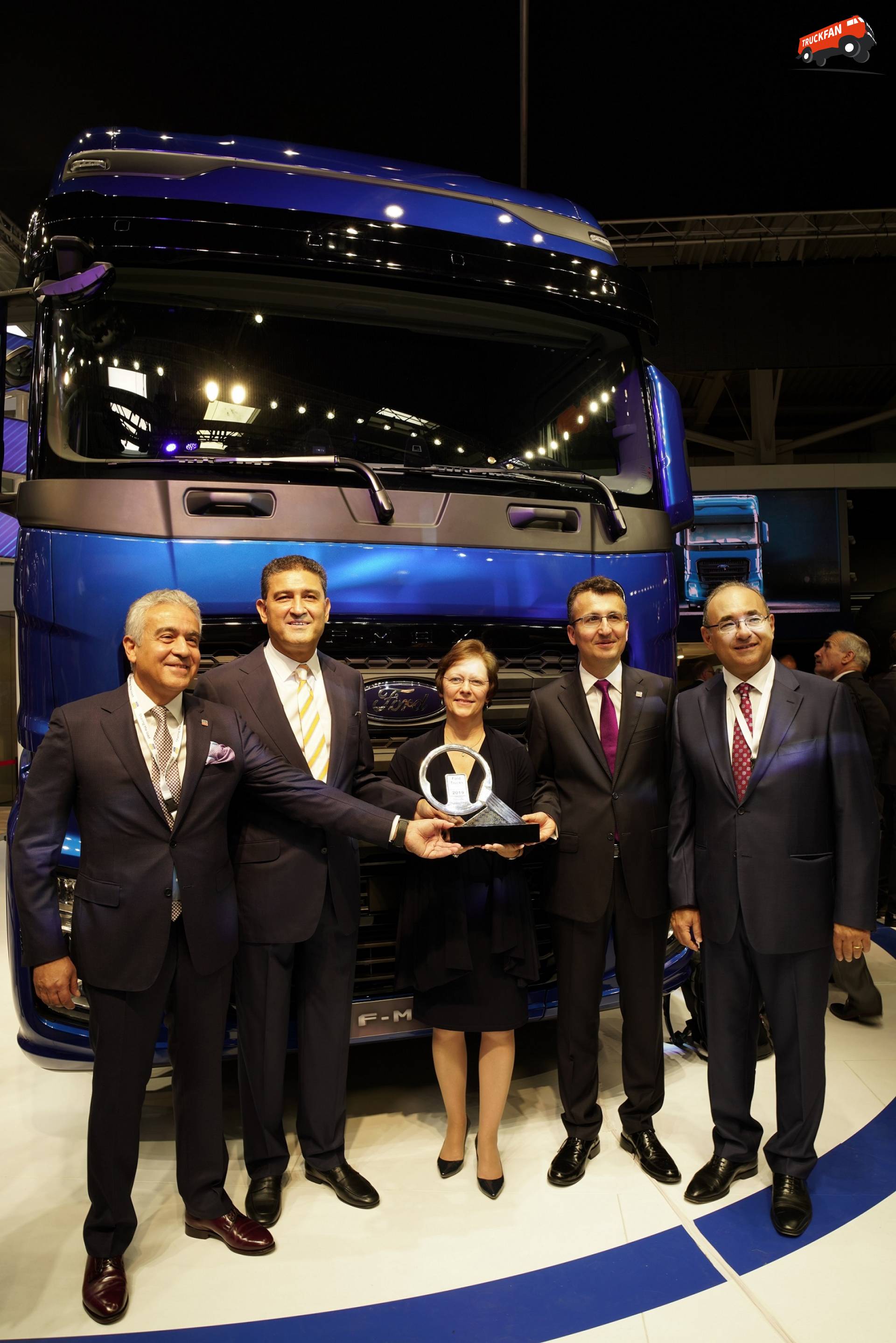 Haydar Yenigün, Ford Otosan General Manager, maintains that the F-MAX, with its 2.5-meter full-width cab and 500 PS engine power, will become a major player in the international transport industry. "The all new Ford Trucks F-MAX, is a global player with its 13-liter, 500 PS and 2500 Nm Ecotorq engine. Our modern design language based on prestige and power combines professionalism and innovation, while superior aerodynamics, optimum calibration and technical specifications of powertrain and transmission, reduce fuel consumption by 6% compared to the current model. The new tractor also decreases maintenance costs by up to 7% and offers longer maintenance intervals, delivering lower total cost of ownership. The F-MAX also offers industry the revolutionary ConnecTruck technology, which means that the F-MAX is Ford's first heavy commercial vehicle with connectivity features. Our new tractor is the product of five years of research and development. After successfully completing 5 million kilometers of road tests in 11 countries on four continents, the F-MAX will set a new benchmark in the international transport industry. The International Truck of the Year award is a very important step toward our future. I would like to thank all of our employees for their efforts in winning this prestigious award."
The all-new Ford Trucks F-MAX launched at the 67th IAA Commercial Vehicles in Hanover, Germany. The F-MAX takes its name from Ford's legendary F Series, and stands out in terms of its size, high level of comfort and durability. These attributes helped the F-MAX win the prestigious International Truck of the Year award, a competition adjudicated by 23 judges from 23 European countries. This award marks outstanding success for the new F-Max.


The F-MAX will set a new benchmark and will make a name for itself among the leading global brands in the heavy commercial segment. The new F-MAX was designed and tested by 500 Ford Otosan engineers over a 5-year period. Tests were carried out in 11 countries on 4 continents using 233 prototype units. This involved 15,500 hours of lab testing and 5 million kilometers of road testing.
"Ford Trucks has a very challenging promises. Saying "sharing the load" as a brand promise, we commit our self to understand customers' needs and share all kind of load that they might have." said Haydar Yenigün, CEO of Ford Otosan. "We developed our new tractor with Ford's principles of comfort, power, efficiency and technology at its heart. To ensure that the design guarantees the most, in terms of efficiency and practicality, we examined every part and every detail over and over again."
Comfort of home
The F-MAX offers comfort and luxury with its 2.5m-wide cab along with its modern design and driver-focused approach. The design of the cockpit-style dashboard ensures all functions are within easy reach. Even minor details are incorporated to enhance the pleasure of the driving experience. The sense of spaciousness in the cab is key.
The F-MAX provides all of this with its flat floor providing 2160mm of floor-to-ceiling height and 260 mm of seat adjustment. Furthermore, the F-MAX offers drivers very generous airplane-style patented storage, and an innovative and groundbreaking 90 degree foldable upper bed. It even has a braking feel that is similar to that of a car. Furthermore, it offers best-in-class NVH and interior quietness thanks to its best-in-class torsional cab stiffness, lower engine noise and sound absorptive trim design.
The new F-MAX offers a range of storage that is roomy and easily accessible. Airplane-style overbed storage, spacious overhead storage and exterior storage areas on both sides of the vehicle are all easy to use and easy to clean. The vehicle's three-level door opening angle means that when it comes to getting into and out of the cab, the F-Max amongst the leaders. The fully sealed and water/dust-proof step cover make drivers feel that they are stepping into their own homes.
Powered interior lightning controls from the bed area and driver compartment, automatic climate control systems and steering wheel adjustment features all offer comfort in the cabin. A mini fridge and coffee maker included in some models offer drivers additional comfort.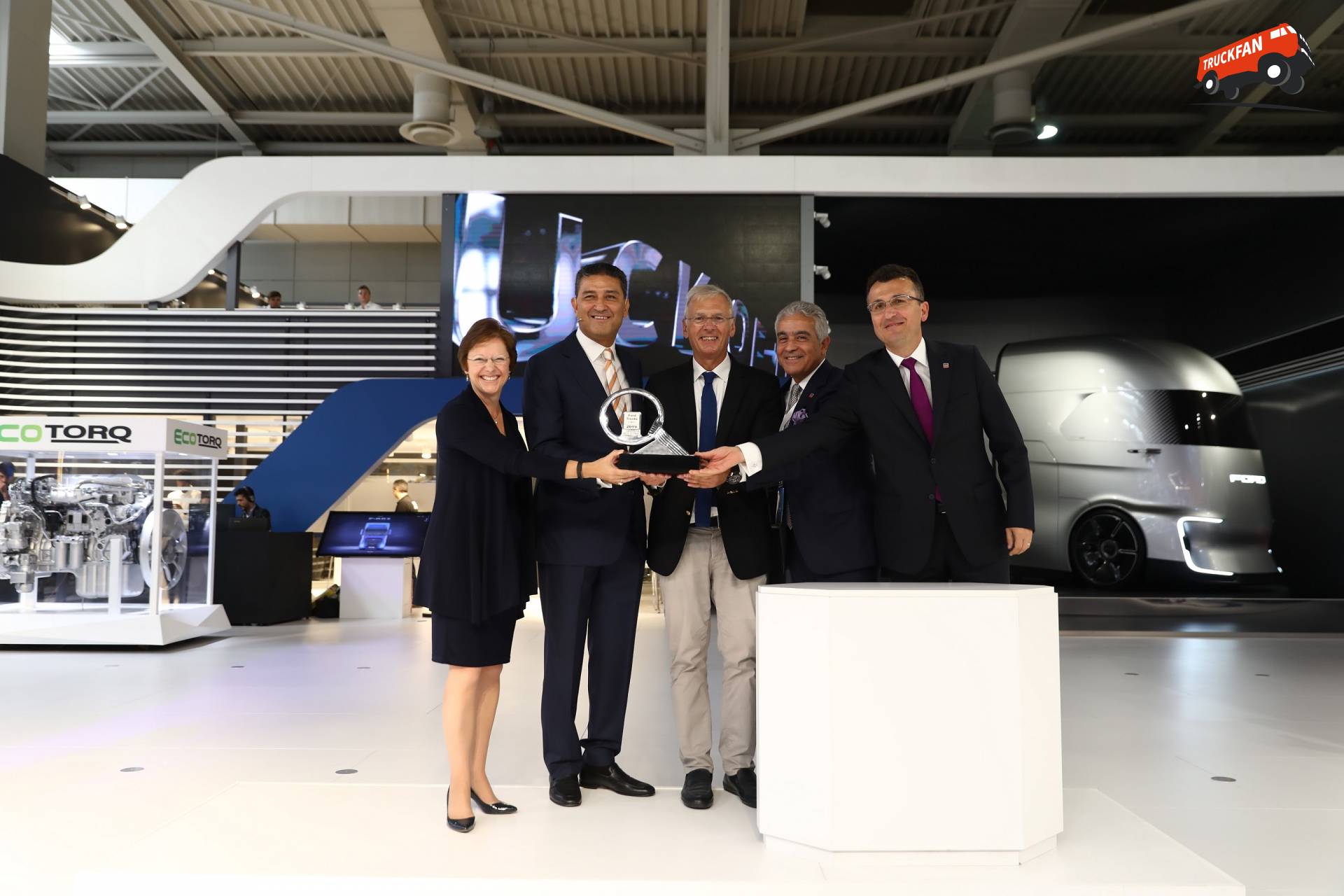 The F-MAX also offers a 90 degree foldable upper bed, an inclined head frame on lower bed, comfortable and large bed mattresses, a remote control unit in the bed area which provides an ideal area for drivers to relax when taking a break. The F-MAX's driver's seat provides maximum comfort. This top-of-the-range seat with a 260mm adjustment range, high-quality, breathable fabric and ergonomic design provides optimal lumbar support on the road.
Power & Efficiency
Cost of ownership is a key factor for the new F-MAX. F-MAX covers the three areas of cost of ownership. Production and product development combined with increasing vertical integration give Ford Trucks a competitive edge in terms of its cost base.
The new F-MAX offers a high performance engine with 500PS, 2500Nm and 400 kW braking power. Superior aerodynamics, powertrain calibration and technical features also ensure outstanding performance in terms of fuel consumption with a 6% margin of improvement over previous models. Technical features include E-APU technology, eco-roll function, predictive cruise control (Max Cruise). Up to 7% reduced maintenance costs and long service intervals reduce the total cost of ownership. F-MAX's Ecotorq engine offers maximum performance and minimum fuel consumption under any road conditions.
12-speed ZF automated transmission and different drive modes such as Eco-Mode and Power-Mode help optimize fuel consumption. The new F-MAX is also empowered by a variable-geometry turbocharger, a water pump and compressor with multiple working speeds, 400 kW engine brake power which achieves 1000 KW total braking power with the optional intarder.


Cutting-Edge Technology
Ford Trucks offers a revolutionary technology ''ConnecTruck'' with the new F-MAX. ConnecTruck offers wide-ranging benefits. These include remote monitoring of the vehicle using remote diagnostic and over-the-air software. The special topographic map means that F-MAX is able to analyze road conditions, allowing the vehicle to drive at optimum speeds, thereby reducing fuel consumption by up to 4%. FMS Integration allows the ConnecTruck Module & Ford Trucks cloud to act as a data gateway for third-party fleet management systems to access selected vehicle data.
The F-MAX offers drivers invaluable assistance on the road thanks to features such as Adaptive Cruise Control, Predictive Cruise Control (Max Cruise) with speed tolerance choices, Advanced Emergency Brake System, Hill Launch Assist, Lane Departure Warning, Adjustable Speed Limiter Device and Electronic Stability Control.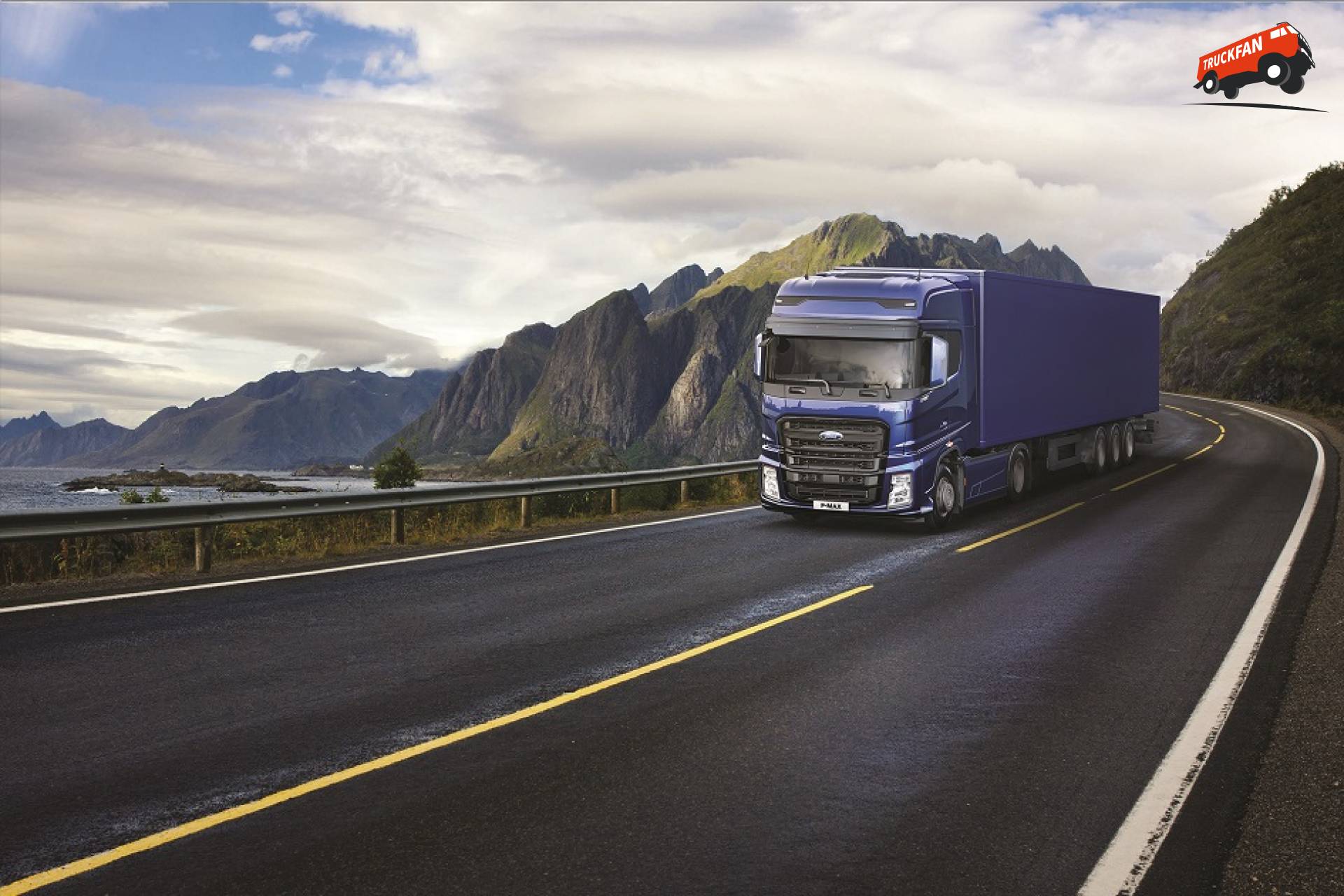 The 8" TFT color wide cluster screen allows everything from tire pressure, temperature status to driver evaluation functions to be displayed on the same screen. Control switches on the leather steering wheel allows the driver to navigate between cluster screens. Truck-specific embedded navigation, web link and Apple CarPlay implementation, Bluetooth connection functions are presented within the 7.2" LCD multimedia soft touch screen.
The F-MAX's spectacular headlight design illuminates the road more brightly, making sure nothing escapes the driver's line of vision. Attractively designed maneuver-assist lighting, LED daytime running lights and optional LED also enhance the vehicle's lighting features.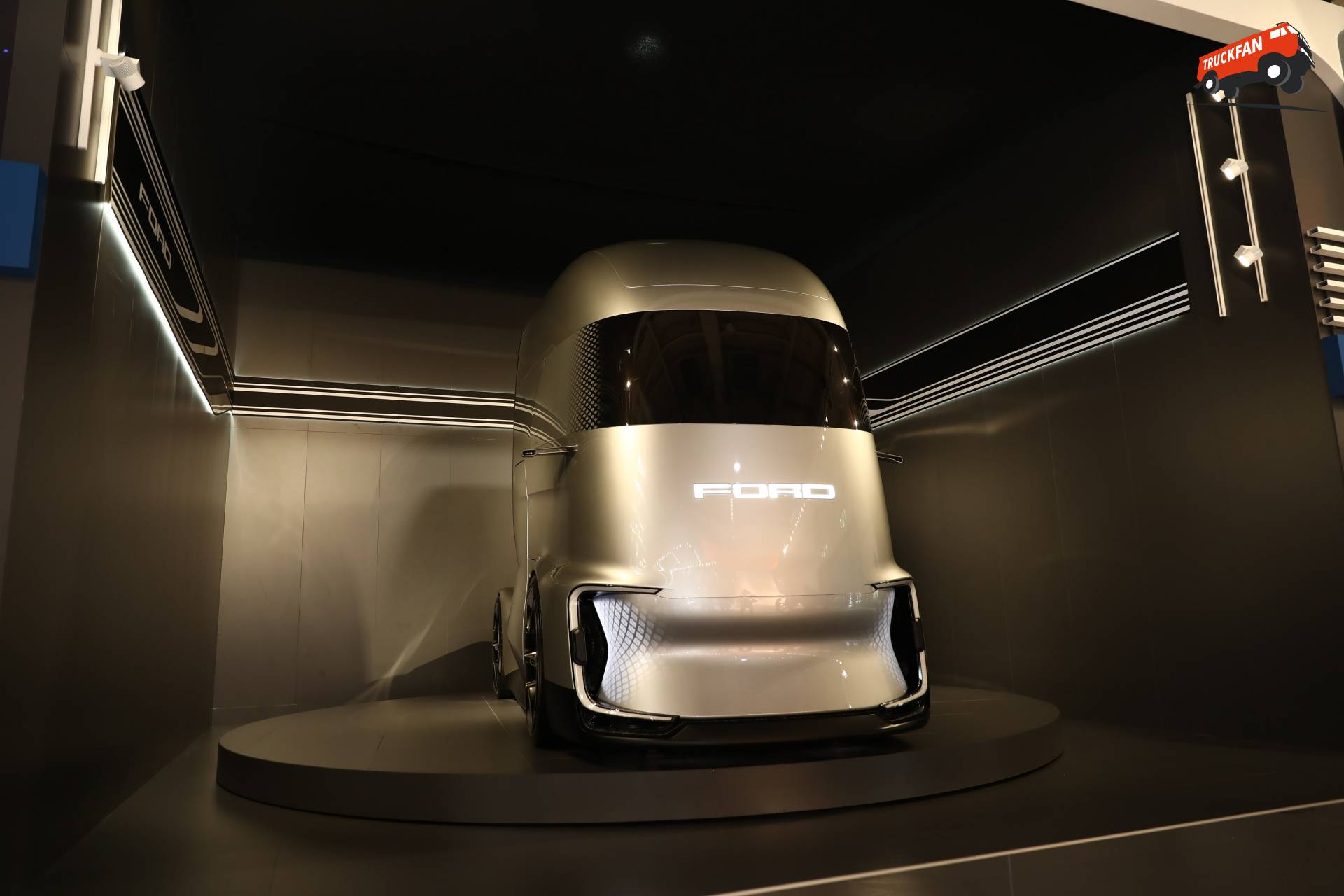 The Ford Trucks F-Vision Future Truck, fully electrically-powered concept truck
The F-Vision is the first concept truck from Ford Trucks. This is the prototype of a level 4 autonomous truck. The concept model reveals Ford Trucks' future vision on electrification, autonomous and connected drive, lightweight and zero carbon emission products. It cares about humans' priorities both inside the cab and on the road, as well as the load being carried, and aims constantly to connect with the enviroment and users and communicates.