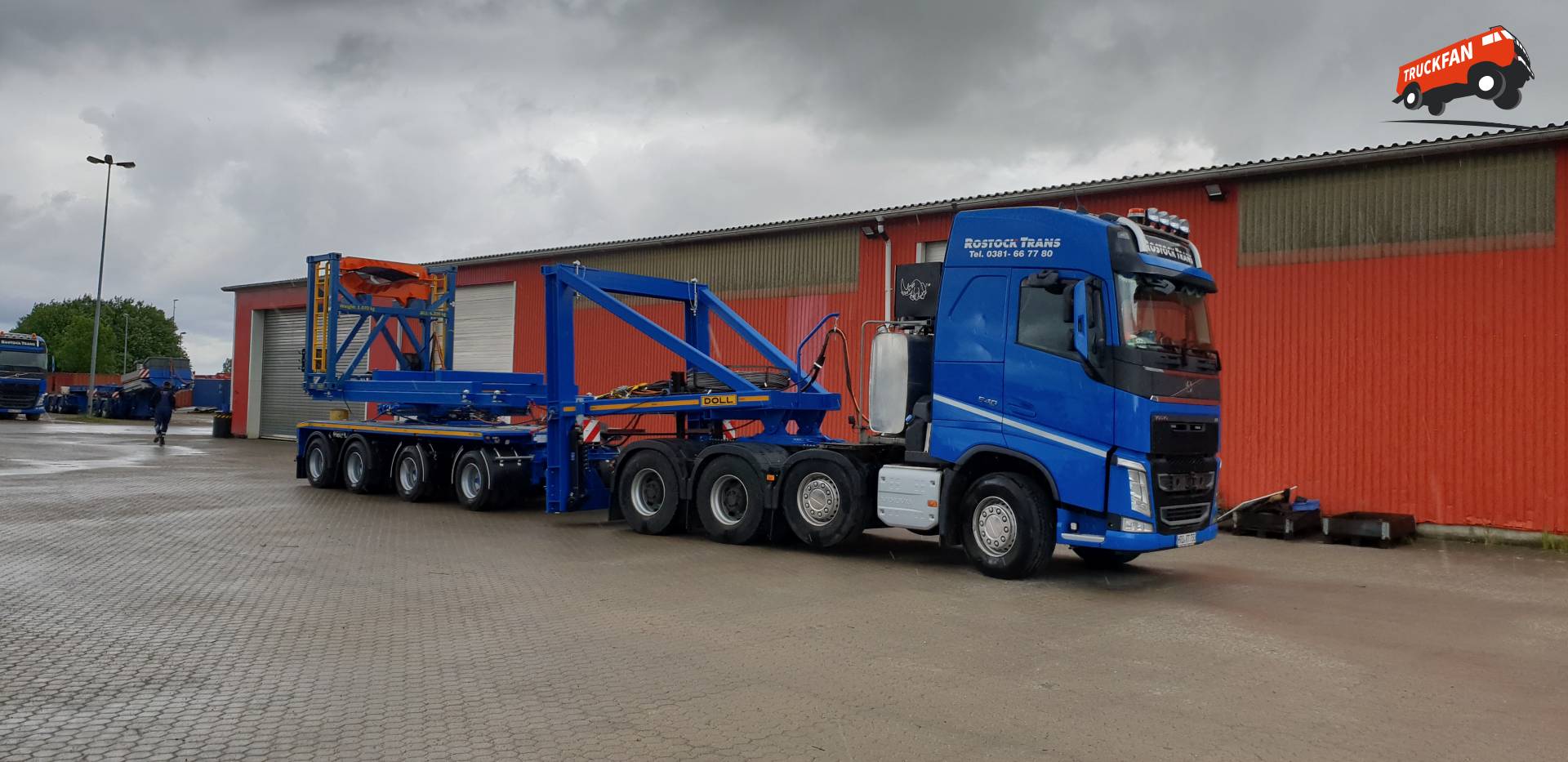 Heavy haulage specialist Rostock-Trans has opted for trailers from the DOLL VARIO series to transport state-of-the-art rotor blades for new wind turbine models. Managing Director Laars Hennek reports on his experiences.
Semi low-loaders versus trailers: when it comes to transporting rotor blades, both systems currently still come into play. Laars Hennek, Managing Director of Rostock-Trans GmbH, has however noticed a clear trend emerging: "Development never stops. Take the blades produced by the Nordex Group, for example – with the NR 74 models, we are already seeing lengths of 72.5 metres and dead weights of around 22 tons." For the rotor blades of this new generation, Rostock-Trans is now generally opting for trailers.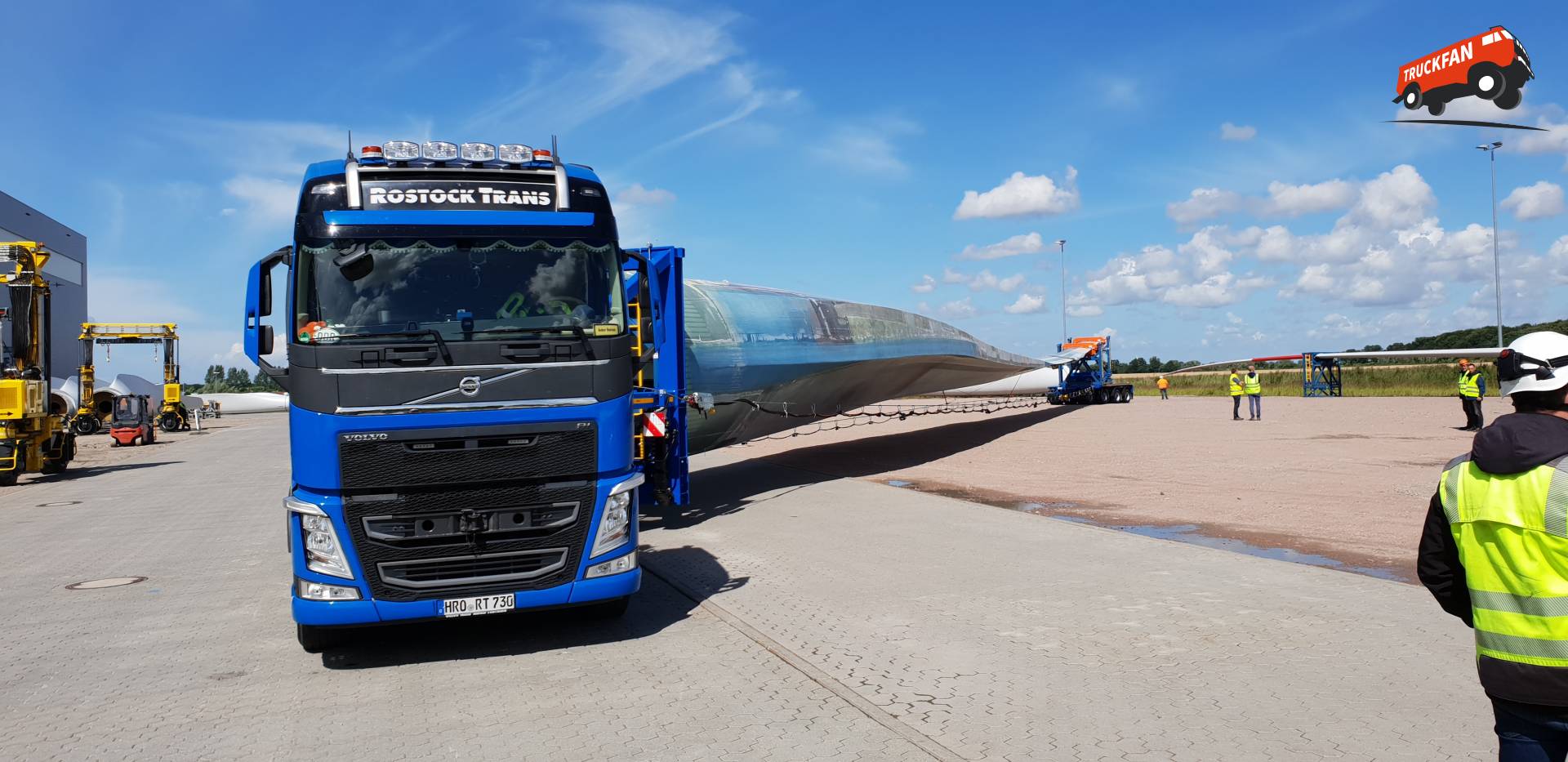 Light, flexible and manoeuvrable
Three DOLL VARIO N4S-0195 trailers with compatible adapters for the traction units are the latest addition to the company's fleet. The four-axle trailers impress with a low dead weight, high level of flexibility and manoeuvrability. "As the trailers don't have the low-lying telescopic extension of the semi low-loader, they provide us with maximum ground clearance," explains Hennek. "As a result, no costly dismantling work is usually needed to get past obstacles such as crash barriers, signs, walls and fences. With a slewing range of up to 85 degrees and due to the fact that the wing tip can be moved on the trailer – with variable overhangs of six to twelve metres – the models offer an unparalleled level of manoeuvrability. In addition, with the VARIO four-axle models, we are able to create extremely light vehicle combinations with very low axle loads. This makes them even more suitable for weight-restricted routes."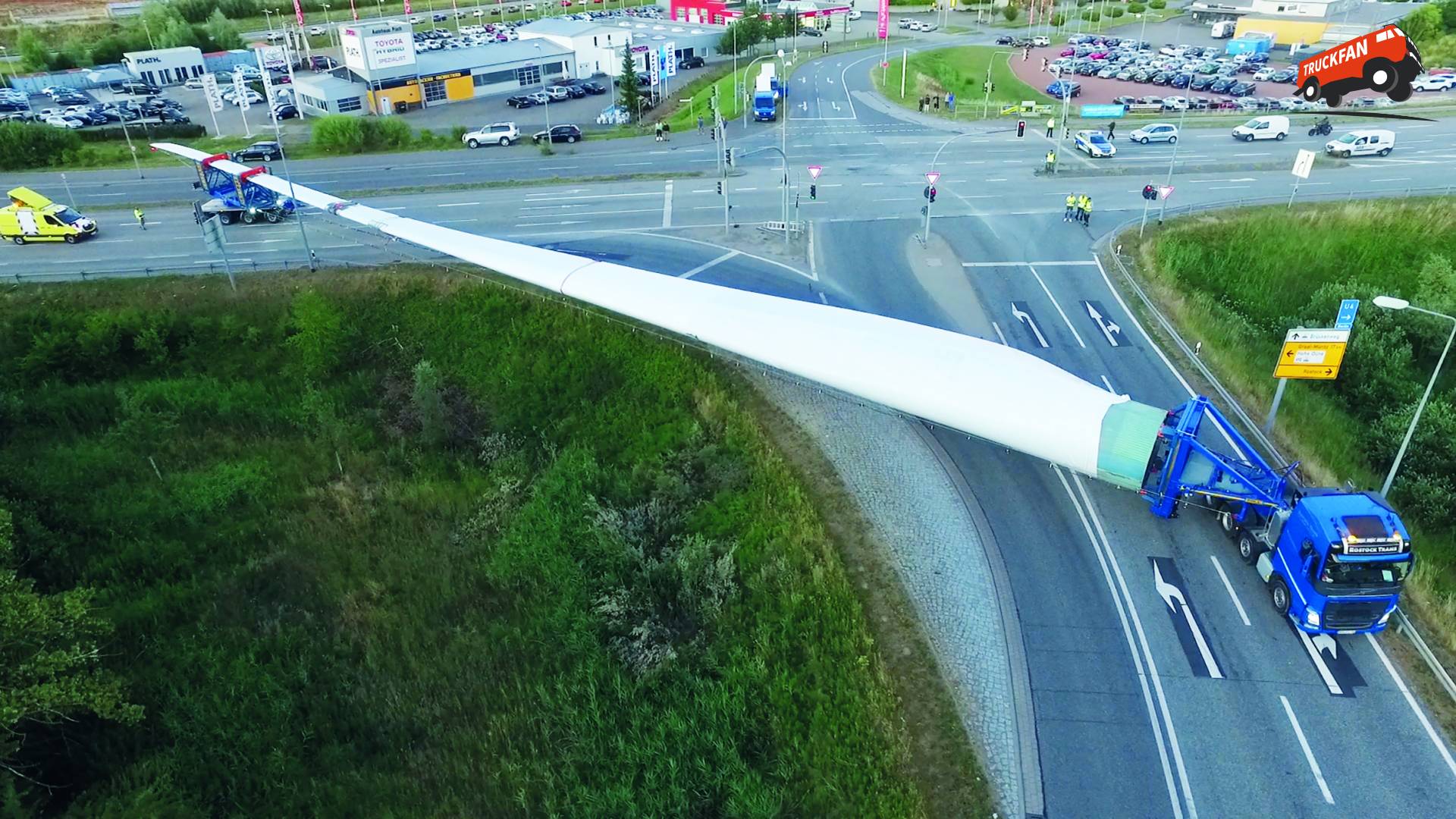 "The heart of the transport unit is the extremely durable changeover system on the lorry," explains Rolf Gerhardt, Head of Product Management at DOLL Fahrzeugbau GmbH. "The combined pivot/rocker bearing system ensures that the rotor blade and rocker bearing rock uniformly over the pivot point on the traction unit. This means that no torsional moments arise and high centres of gravity can be handled safely, which is enormously helpful in extreme situations."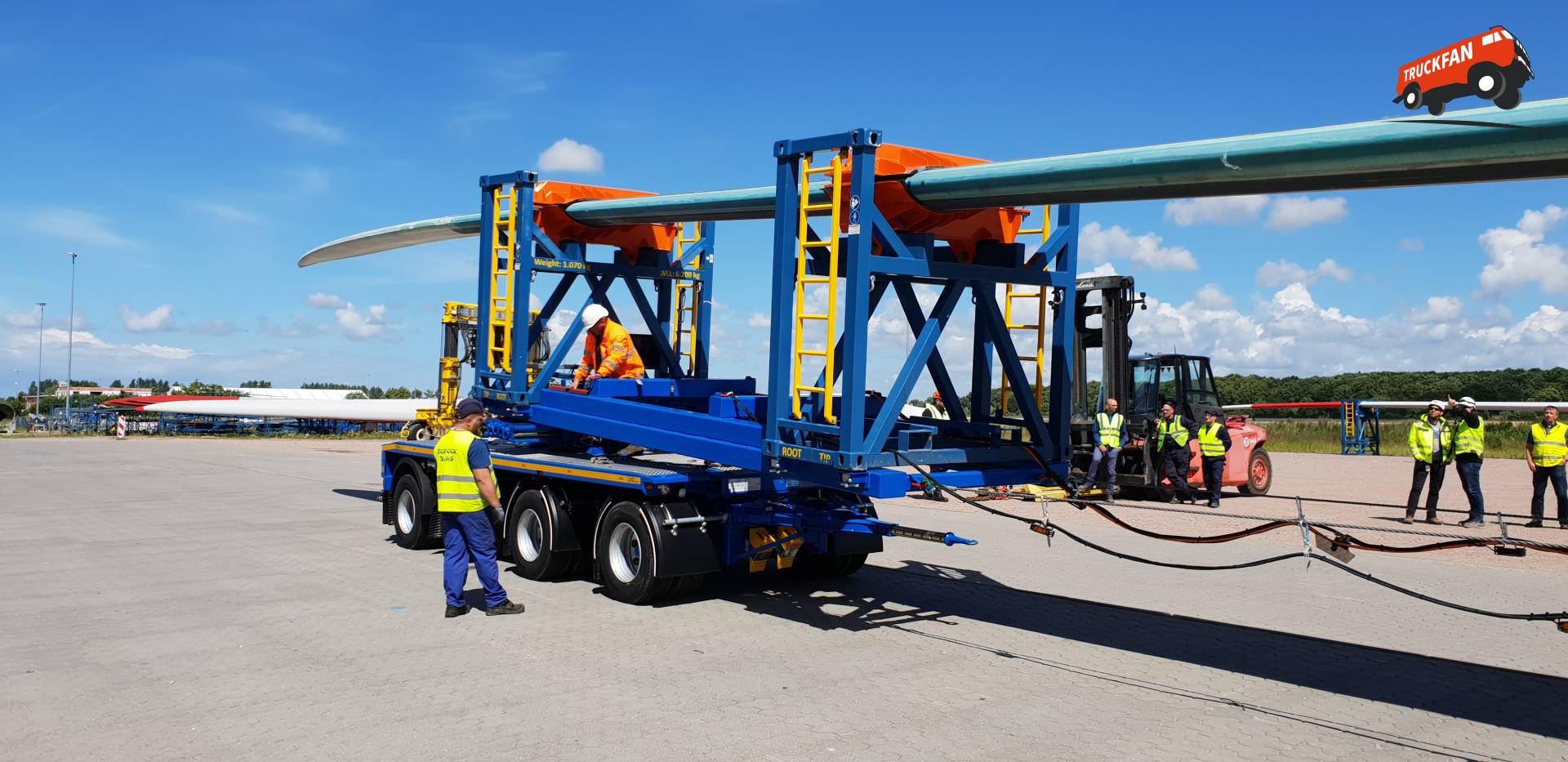 A further factor relates to headroom, as Hennek emphasises: "As the trailer is coupled at a low level, we remain under the four-metre mark even with the 72-metre blades, giving us more options. This is particularly useful, for example, on Germany's A7 motorway with the tunnel under the Elbe river and the Munich bypass." In contrast, the fact that the blade-root diameter increases as the length is increased is already causing major problems with conventional trailers. "With the right transport frame attached, hardly any trailer is under the height restriction," says Hennek. "4.50 metres is the absolute maximum height for which it is relatively straightforward to obtain a permit for travelling on motorways across Germany. With a semi-trailer, there would hardly be any ground clearance: the telescope is in some cases just a few centimetres off the road and will touch it if there is any unevenness in the road surface."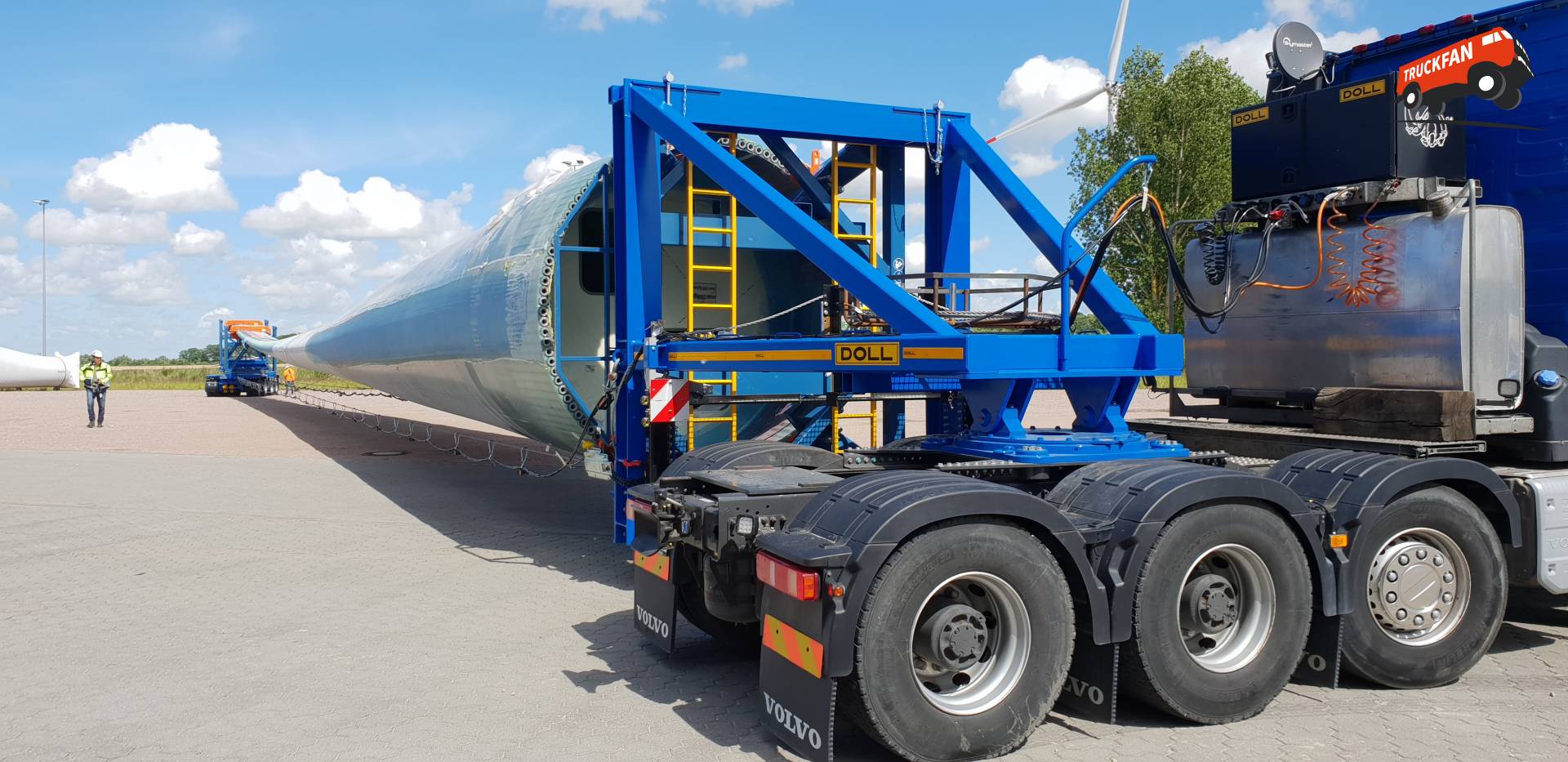 Reaching the limits of what is possible
"With wind power plants, the trend is towards longer and longer blades," states Laars Hennek. "The Nordex Group makes sure it takes the increasing transport requirements associated with this into account when it develops its installations." More and more manufacturers now have to focus on how long blades can be transported and are finding that the transport options involving conventional semi-trailers are gradually reaching their limits.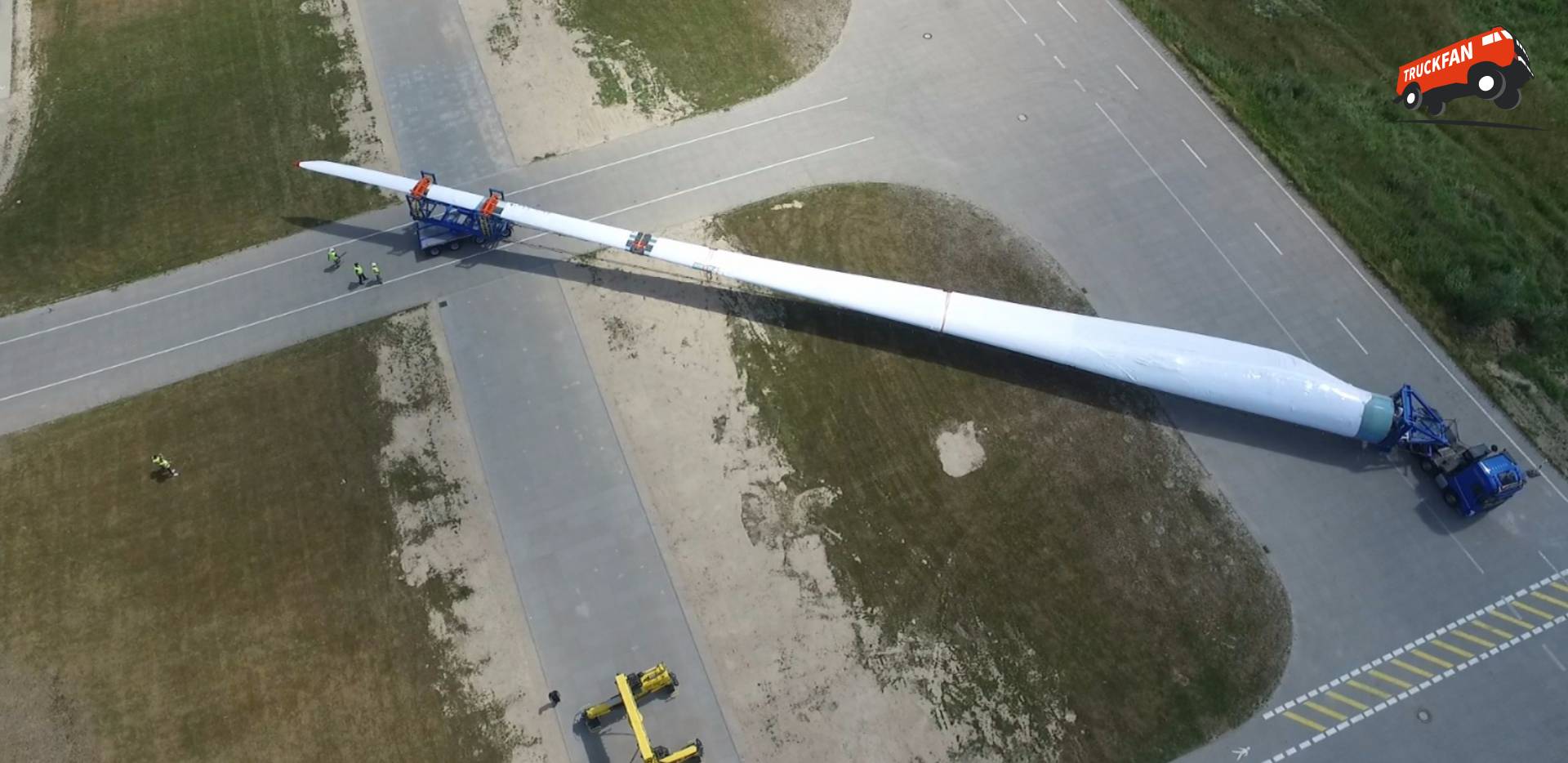 In the end, as is so often the case, the question of costs arises. "Transport equipment is already expensive as it is," states Hennek bluntly. "Semi-trailers get more and more expensive – and heavier – with every metre of telescopic extension. In the end, you might need a five-axle traction unit, meaning that the trailer neck then has to be longer and the advantage in load capacity in real terms gets ever smaller. An alternative is to use leading axles, but this option brings with it considerable disadvantages when manoeuvring." With the new, four-axle VARIO trailers in his fleet, Laars Hennek is quite relaxed about what the near future holds: "Thanks to the trailers, we are already well equipped to deal with blades up to 100 metres in length and weighing up to 33 tons."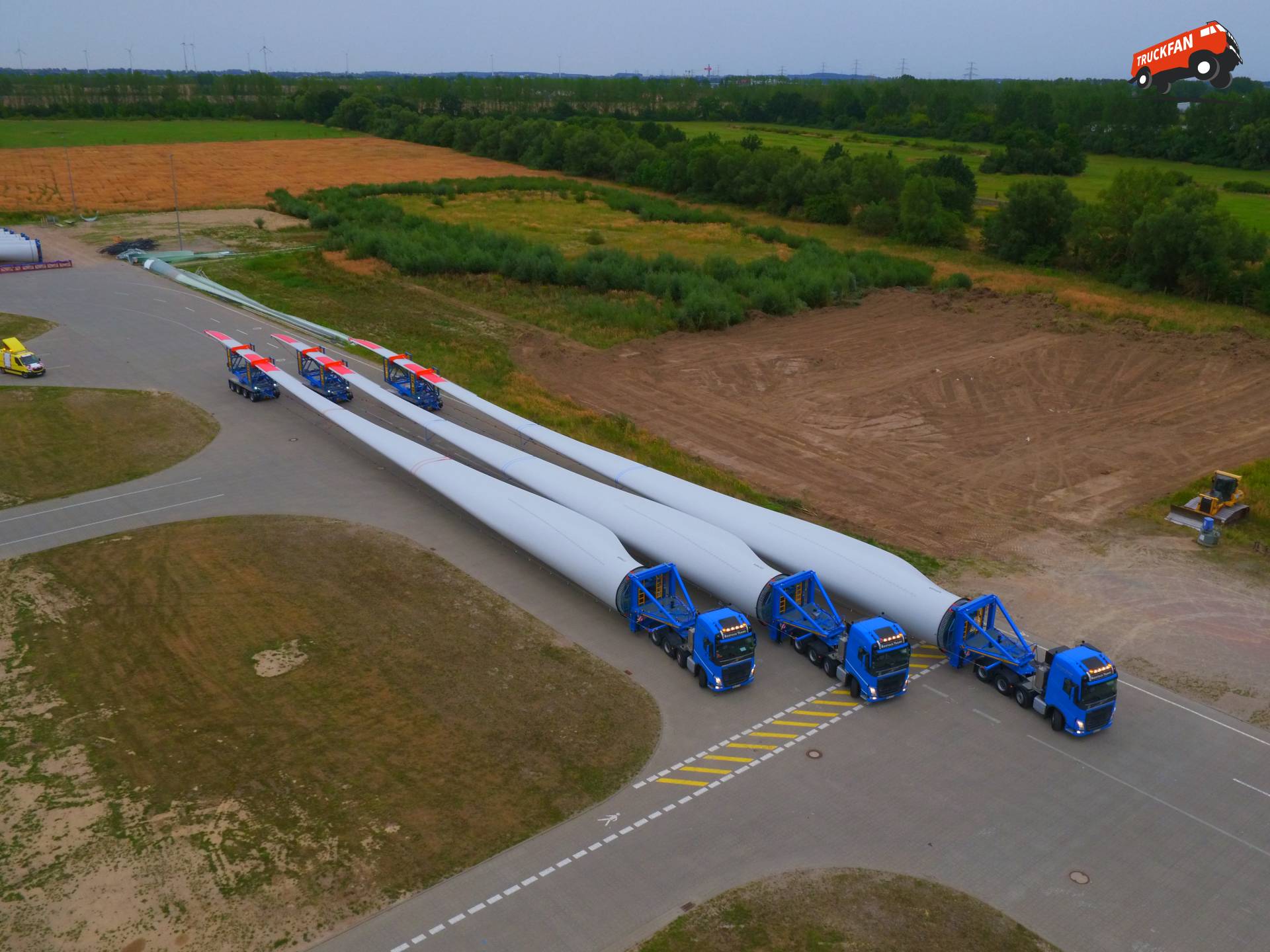 About Rostock-Trans
Rostock-Trans GmbH has decades of experience in high-capacity and heavy haulage right across Europe. From selecting the right trailer combination to route reconnaissance, permit procedures and police escorts, the north-German specialists will plan and handle every requirement. The company specialises in wind power, ship propellers, large-scale installations, transformers, construction machinery, shipyard transport and yacht transport.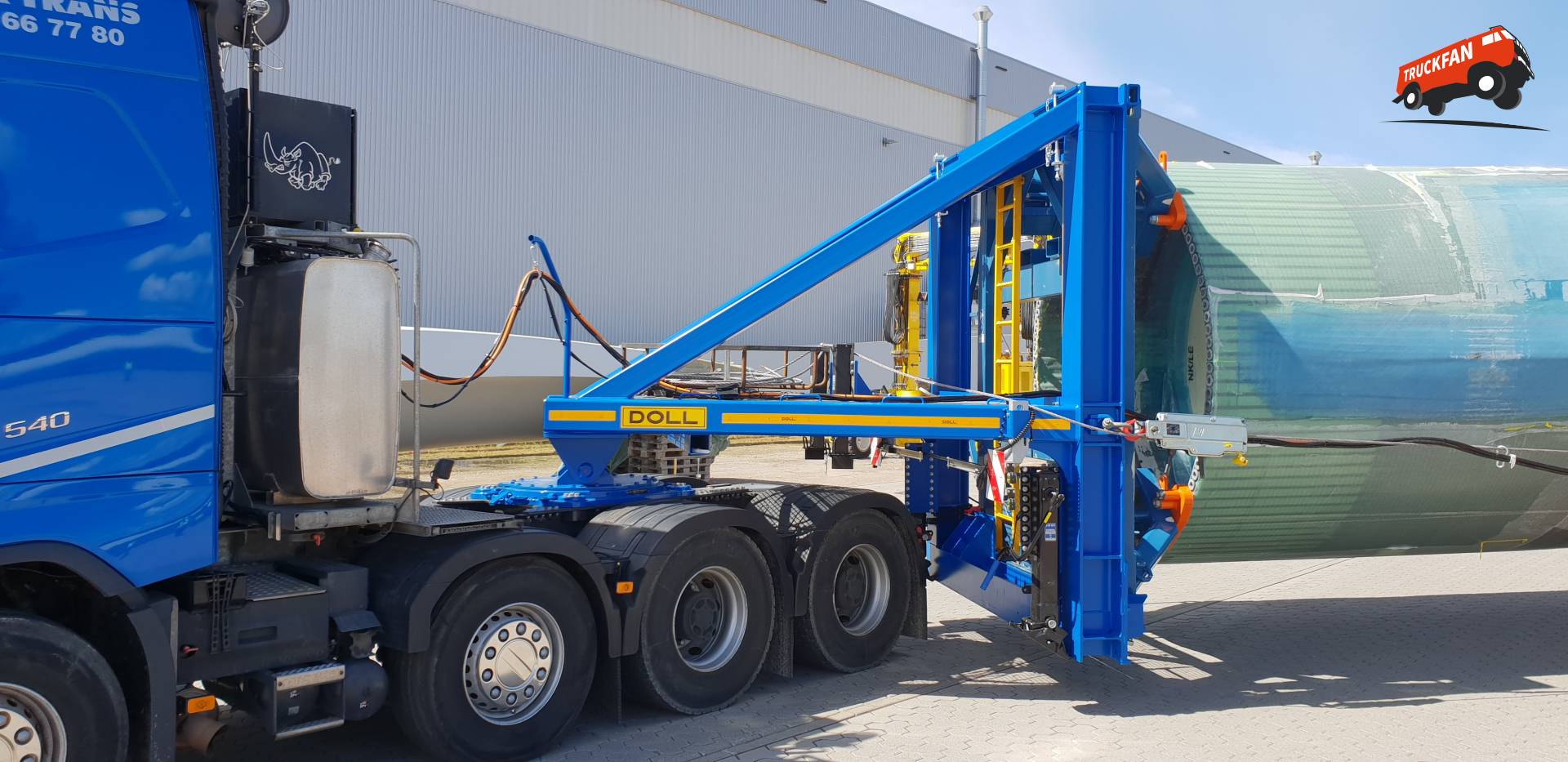 Technical data DOLL VARIO N4S-0195
Overall length incl. drawbar: 7,980 mm
Vehicle width: 2,550 mm
Bolster upper edge loading height (when loaded): 1,480 mm
Total weight, tech. (80/60 km/h): 40,000/41,200 kg
Dead weight (+/–3%): 8,700 kg
Payload, tech. (80/60 km/h): 31,300/32,500 kg
Superstructure: DOLL special bolster up to 60 t load
Chassis:
4 BPW axles with pneumatic suspension and drum brakes, 2 with ABS, all with ASA (automatic slack adjuster),
1st and 2nd axles on bogie with slewing ring, 3rd and 4th axles rigid; tyres 285/70 R 19.5.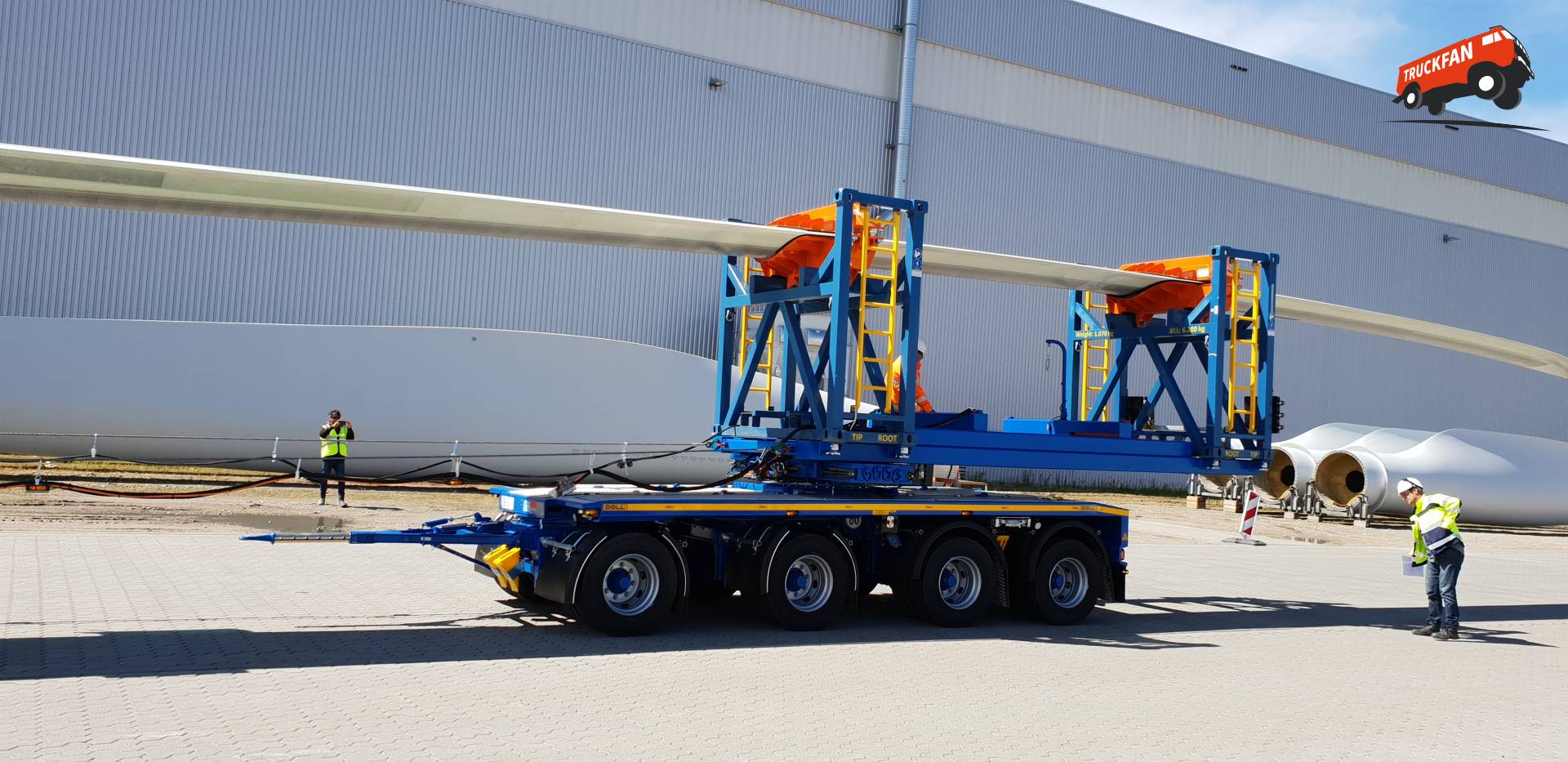 Lifting adapter for rotor blade transportation
H x W x L: approx. 3,400 x 2,940 x 3,500 mm
Coupling height: approx. 3,500 mm
Fifth-wheel load (max.): 23,000 kg
Dead weight: approx. 3,000 kg
Stabiliser:
Mechanical stabiliser for 24 t lifting load, mounted in front of the vertical frame, for lifting and lowering the lifting adapter.