Dacia UK has partnered with Service by Emergency Rider Volunteers across Oxfordshire, Buckinghamshire, Berkshire and Northamptonshire (SERV OBN), providing a Duster 4×4 to aid its voluntary emergency riders in transporting blood and blood products to patients in need of urgent medical attention throughout the area. The Duster 4×4 Laureate dCi 110 was chosen by the service for its dependability and four-wheel drive capability and will be supporting the rapid response bikes as the region's only four wheel vehicle.

The SERV OBN voluntary riders are usually used to riding motorbikes to ensure a quick delivery of medical products, however, the fully-equipped emergency vehicle is aimed at improving the service carried out by 124 volunteers from across the region. The Duster will be used to provide a quicker response to larger load requirements, as before the Duster was available, volunteers would have to use their own cars to transport products when two or more 'Long Journey Boxes' were to be transported on one journey. The Dacia Duster will also offer immediate access to a vehicle when the bike fleet is grounded during adverse weather conditions or when all bikes on duty are in use and there are further needs for SERV OBN's services.
Paul Stothard, SERV OBN said: "The Dacia Duster 4×4 will make such a difference to the efforts of SERV OBN transferring potentially life-enhancing products to hospitals throughout the region. As a service, our voluntary riders undertook 1,500 journeys in 2016, however if we'd had the capabilities of a vehicle such as the Duster, that number could have been a lot higher. On some occasions, our riders have needed to use their own cars for journeys when they were unable to use their motorbikes. The Duster will remove the need for that and, given its livery, is much more appropriate for use. The Duster will provide a life-saving service for those in need of it."
Louise O'Sullivan, Head of Dacia UK said: "The Dacia Duster 4×4 truly is a robust, go-anywhere vehicle, well suited to take on the demanding tasks the SERV OBN volunteers will put it through. Dacia UK is proud to support the humbling work the team do throughout the region and hope the arrival of the Duster contributes to SERV OBN saving many more lives."
SERV OBN are a volunteer rapid response medical transport service delivering much more than just blood as any other urgently needed medical products are supplied out of hours, 365 days a year – all free of charge to the NHS. SERV OBN receives no government funding and relies on donations from the public and sponsorship to keep the service working. The volunteers receive no payment for their time or costs, saving the NHS thousands of pounds a year and allowing hospitals to divert funds to where they are needed the most. SERV OBN are founder members of the Nationwide Association of Blood Bikes.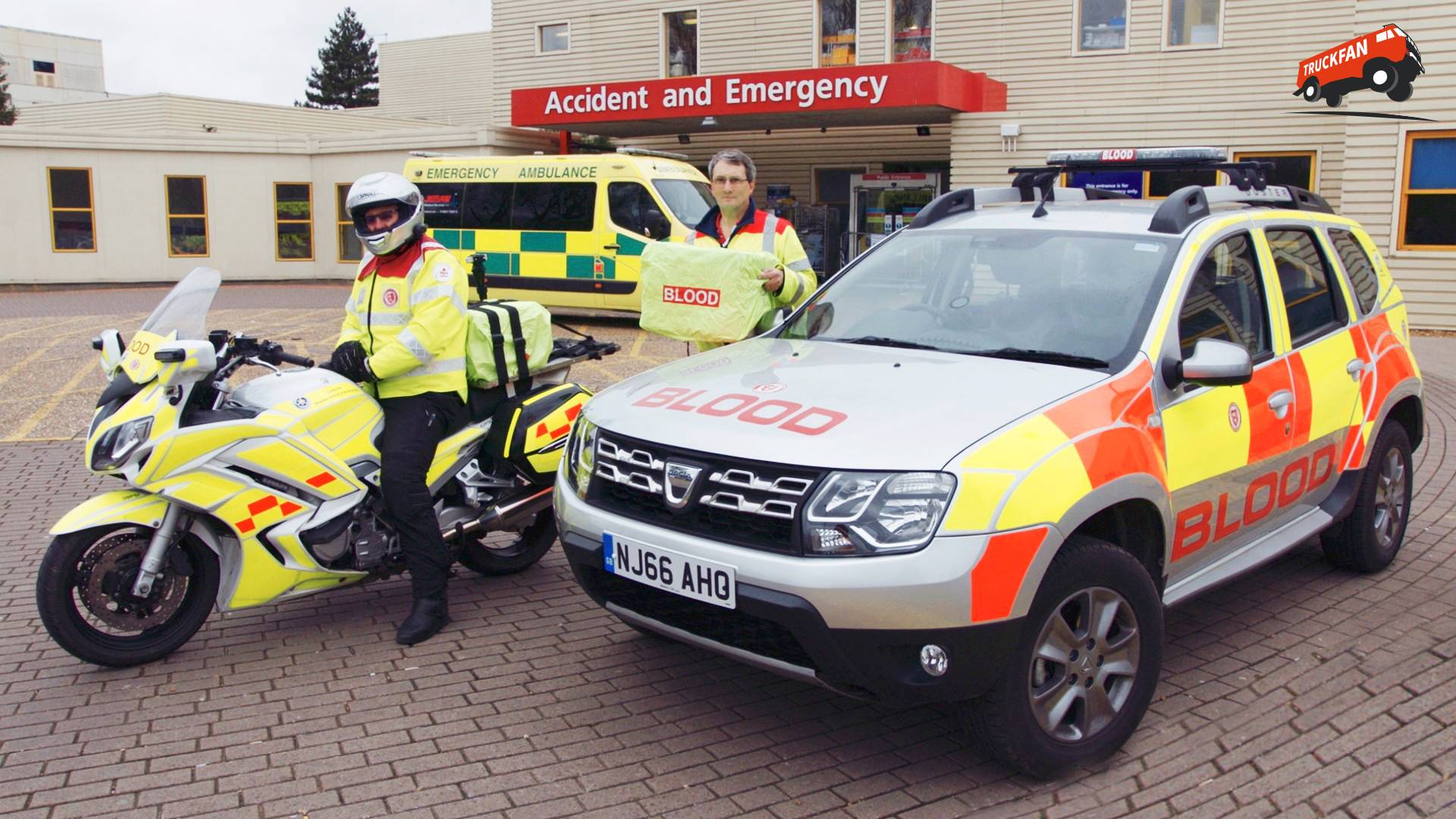 The Duster has a proven track record when it comes to responding in an emergency with both St Andrews First Aid and the Windsor Community First Response team deciding that a Duster fits their challenging needs in all kinds of emergency situations.