Direct na de ingang van de IAA 2022 stond een aantal voertuigen van het Daimler concern, waaronder deze Unimog U5023. De bijzonderheid van dit voertuig? Hij heeft het hoogterecord voor wielvoertuigen gehaald! In de dubbele cabine zijn zeven stoelen geplaatst. De wielbasis is 285 centimeter, het GVW is 14,5 ton. De 231 pk (170 kW) sterke motor is gekoppeld aan een UG100/8 versnellingsbak. De draaicirkel is 16,4 meter. Uiteraard staat hij op een paar stevige portaalassen.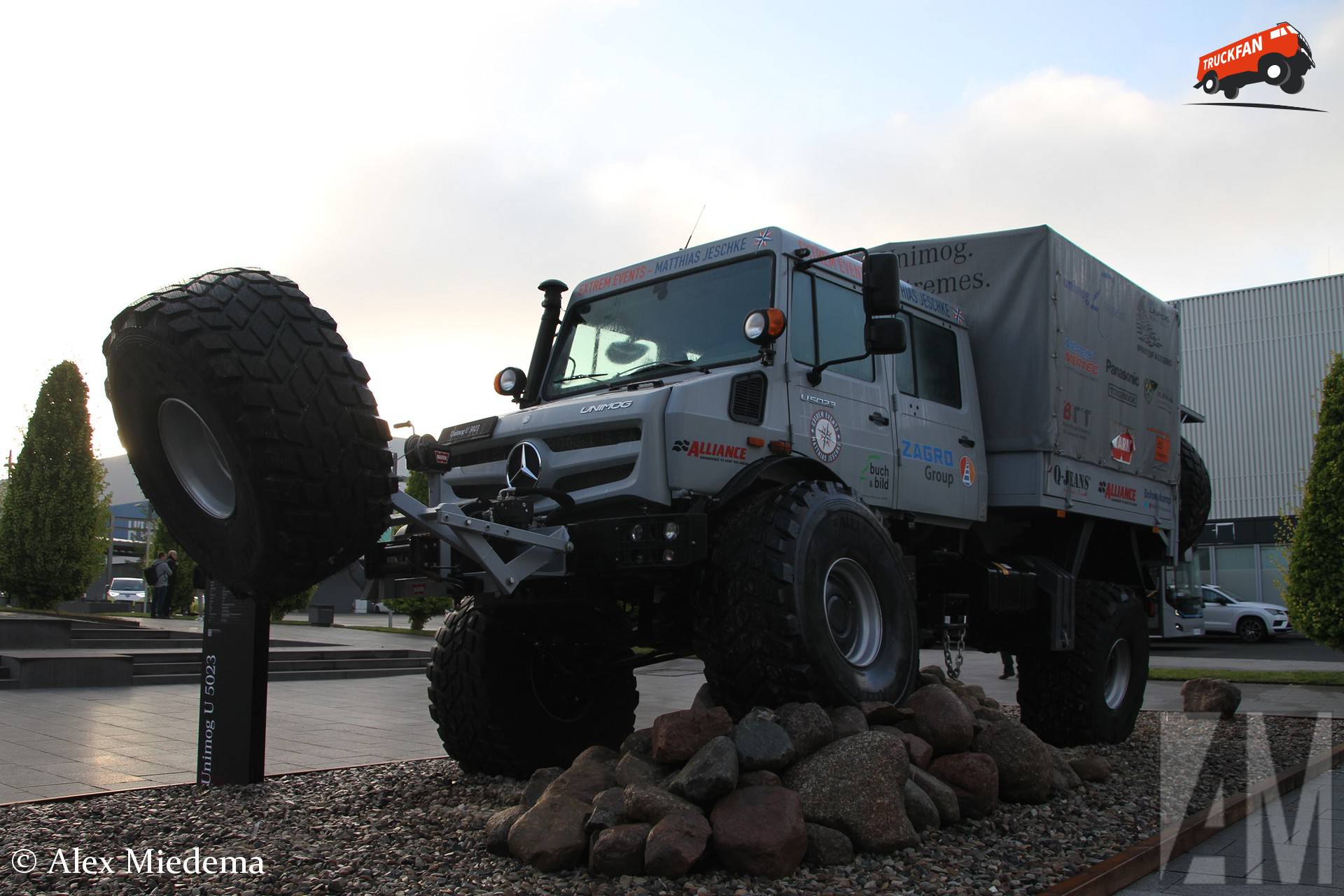 6694 metres above sea level – you can't get more off-road than that. Never before has a wheeled vehicle driven at such an altitude. Matthias Jeschke and his expedition team achieved just that on 13 December 2019 with their two Unimog vehicles and thus broke the world altitude record for wheeled vehicles in Chile. The expedition team of ten installed a system of emergency radio units for mountaineers on the Ojos del Salado volcano which at 6893 m is the highest active volcano in the world and the second highest summit in South America.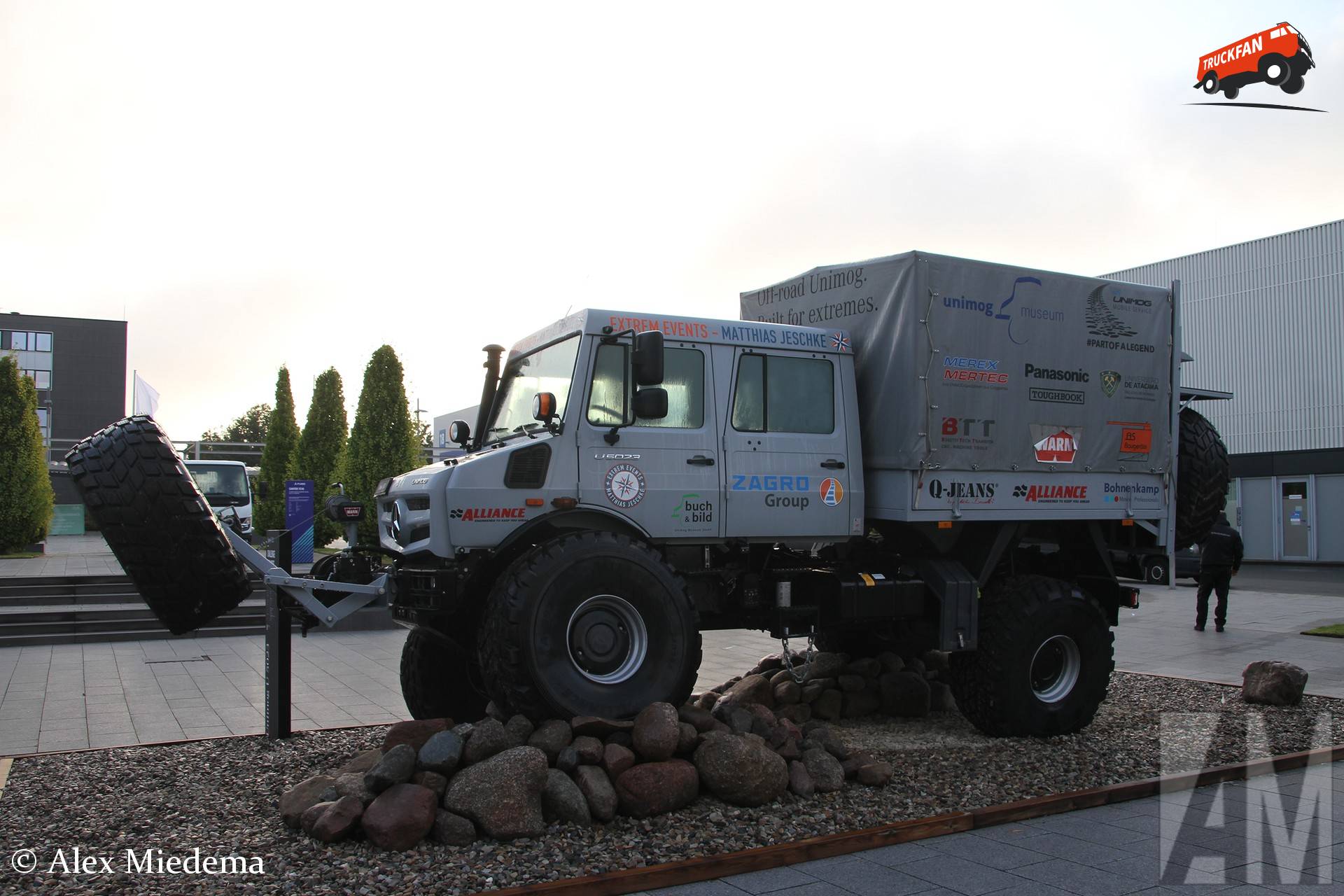 The Andes, where the Ojos de Salado volcano is located, are a part of the Pacific Ring of Fire, a region with the strongest volcanic activity. Accordingly, the terrain into which Matthias Jeschke and his team dared to travel is rough and impassable: The ground to be covered is made up of steep climbs, boulders, volcanic rock, rubble, glaciers and snow. To ensure that the vehicles were ready to tackle the challenges of such extreme altitudes, both Unimog trucks were equipped with special tyres, strong winches and special bodies with variable centre of gravity balancing. The team was supported by the concentrated expertise of the specialists at the Unimog museum and at AS Söder, the Unimog bodybuilder partner as well as by engineers from the Unimog development division at Mercedes-Benz Special Trucks in Wörth.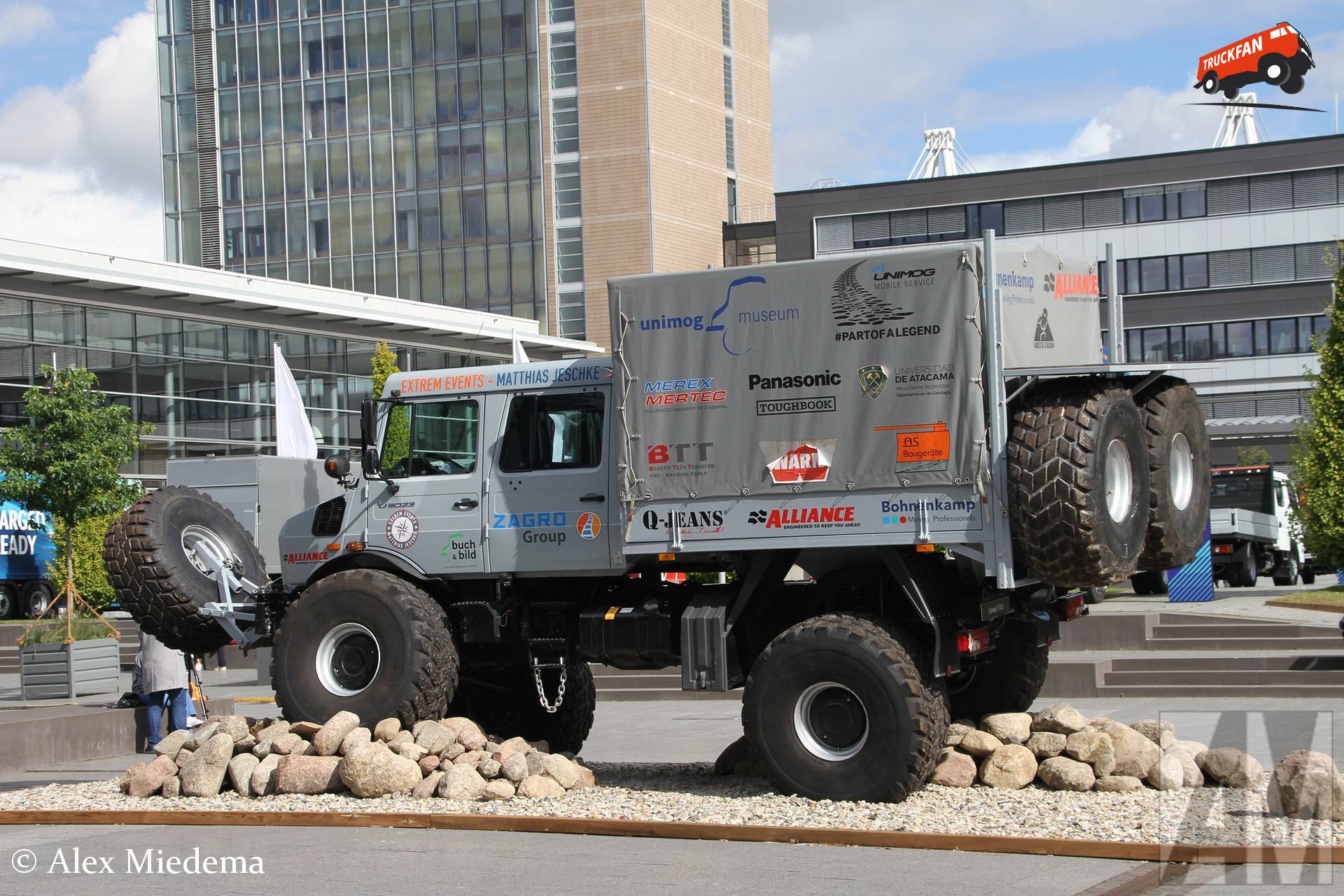 Once the team had successfully reached the Amistad high-altitude camp at 6100 m with both Unimog U 5023 vehicles and had installed the fourth and last emergency radio unit, they turned to the next goal of the expedition: the absolute world record for wheeled vehicles at altitude. On 12 December the mission reached an altitude of 6640 m after another difficult ascent and was then able to drive one of the Unimog vehicles up to the now officially confirmed altitude of 6694 m above sea level on 13 December.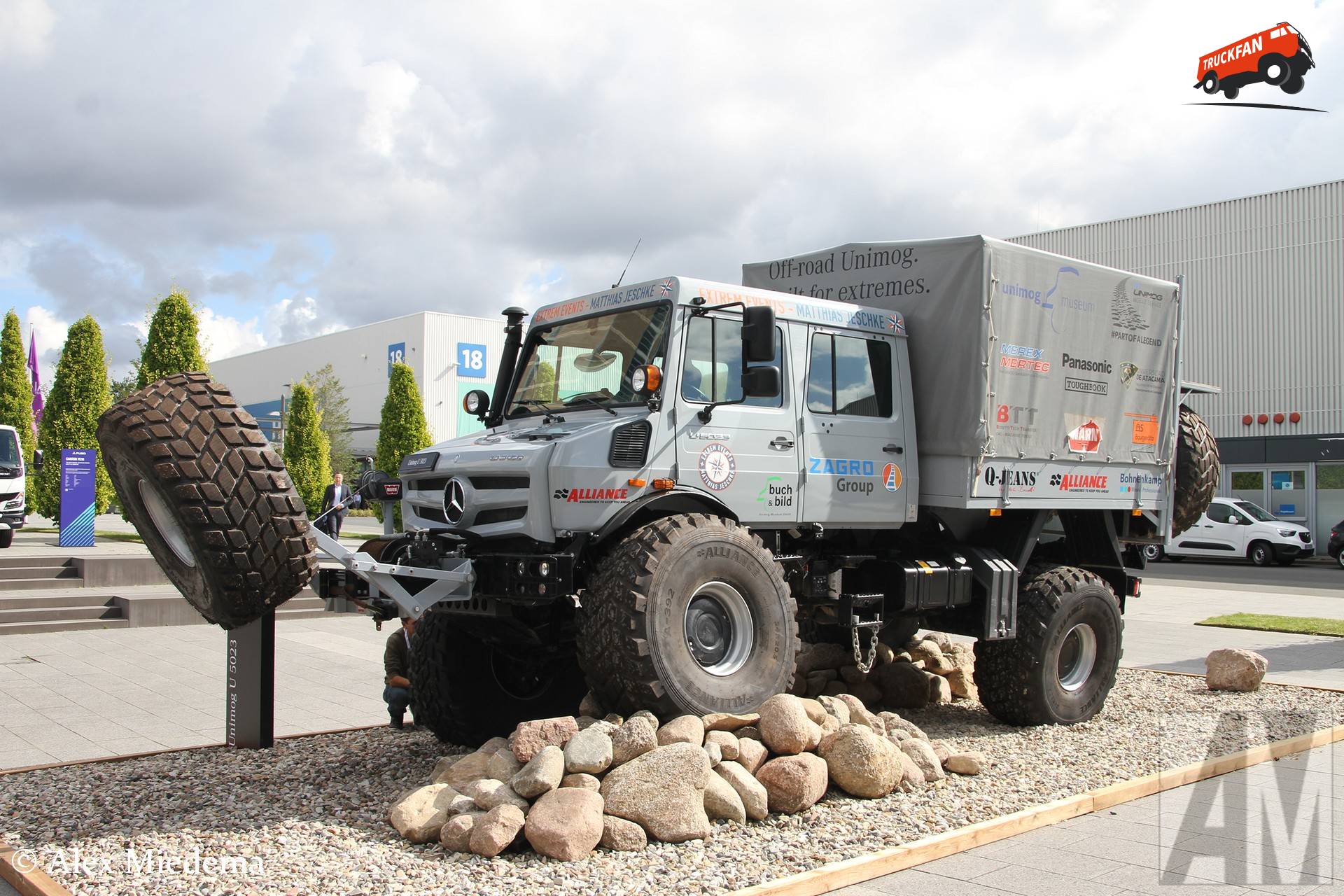 Having reached this altitude, the owner of the Extrem Events company, Matthias Jeschke, and his team didn't just beat their own record set with a Mercedes-Benz Zetros in 2014, they also set the absolute world record for a wheeled vehicle driving at altitude. According to the head of the expedition, both vehicles "mastered the extremely steep and rocky passages thanks to a combination of the best, reliable technology, a balanced centre of gravity and amazing tyre technology to bring the materials and equipment to these enormous heights. At no point in time around the world have motorised altitude expeditions taken two trucks simultaneously to such an altitude."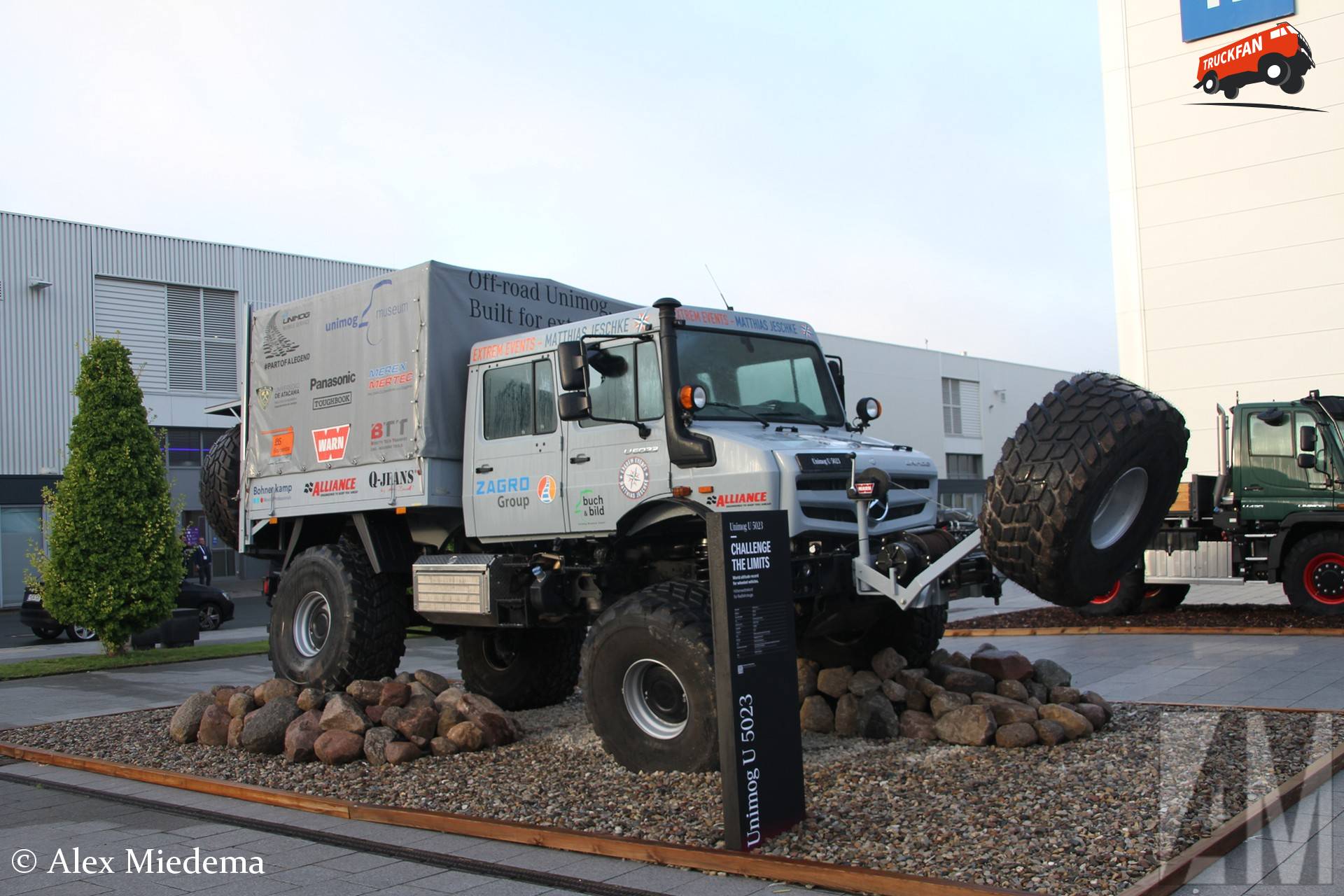 It certainly wasn't child's play when you take into account all of the external conditions which added to the difficulty of ascending the volcano. Thus the Unimog didn't just have the expedition members and their provisions on-board, but also 1800 l of fresh water, 1500 l of diesel fuel and 600 l of petrol, for example.
The expedition's Unimog vehicles aren't just characterised by their transport capabilities. In order to hold their own on Ojos de Salado, they were specially equipped. Off-road balloon tyres with low ground pressure provided for a high level of traction. Both Unimog vehicles were fitted with winches so that they could assist each other off-road and better overcome steep passages. The adjustable booms on the front, each fitted with a heavy spare wheel prevent the vehicle from tipping backwards on extremely steep climbs.
Schuine text komt van Daimler. Meer Unimog artikelen kun je hier vinden.